Important - please read carefully
The Software that you have just purchased is currently secured and must be Unlocked before use. For this purpose you need a Personal Unlock Key (PUK), which can be obtained as follows:
1. Run your downloaded software and a window similar to the diagram below will appear: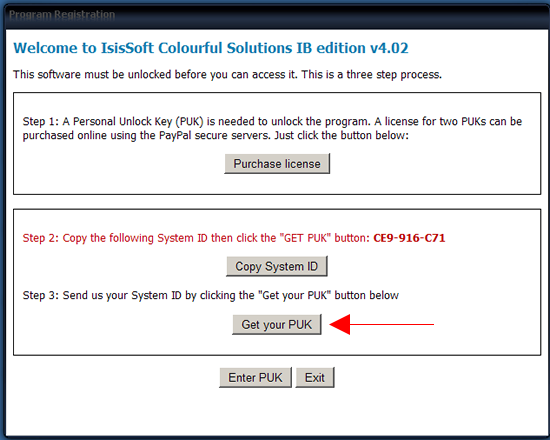 The number Step 2 is your SystemID (it will not be the same as the number in the diagram. of course!).
2. Enter this code in the form below along with your name and email address and send.
Please send us your 9-Digit Alphanumeric SystemID and you will receive your Personal Unlock Key to register your copy of the software as soon as your details are confirmed.
You will receive your Personal Unlock Key within 24 hours. Then follow the steps below:
Run the Colourful Solutions software again and select enter PUK. You will be taken to a registration form. Enter your UserName (supplied) and Registration Key and your software will be permanently unlocked
Should you have any difficulties whatsoever do not hesitate to contact our support team via this same form.
Congratulations on your purchase.
Charles Collingwood
IBC support